Mitchell Scholar Allyson Nadeau shares her recipe for success at the Culinary Institute of America
We mean no disrespect to any hardworking currently enrolled Mitchell Scholar, but Allyson Nadeau's classwork takes the cake. Literally.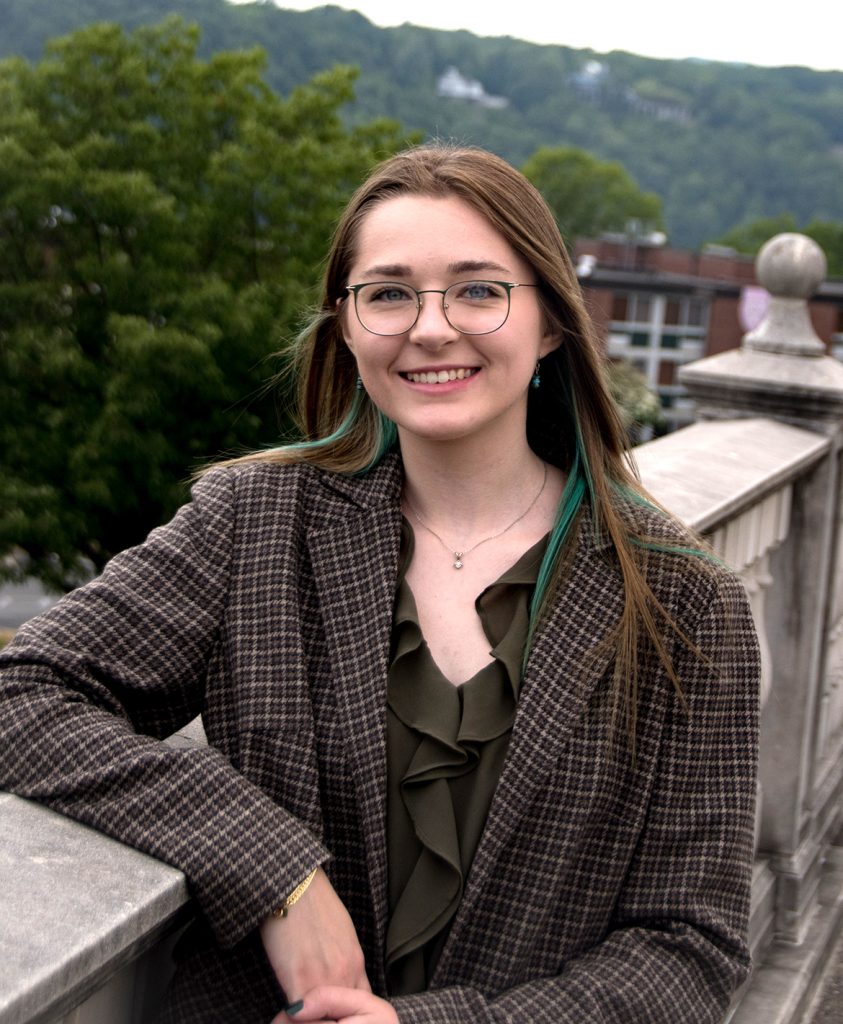 Nadeau, the 2021 Mitchell Scholar from John Bapst Memorial High School, recently shared some images of confections she created in courses ranging from Contemporary Cakes to Specialty Breads to Advanced Baking Principles as she pursues a major in Food Business Management at the Culinary Institute of America.
The pics sparked some curiosity at the Mitchell Institute: Most folks know the ins and outs of standard-fare syllabi—undergraduate courses in U.S. History, American Lit, and Psych 101—but what about the coursework in, say, Confectionery Arts and Special Occasion Cakes?
So, we put the question to Nadeau, and by way of her answers, we offer this no-calorie photographic tour of her recent masterpieces.
Take a look, and we think you'll agree: While being Mainer might rule out her ever appearing on the Great British Baking Show, Nadeau's creations would surely net her lots of "Hollywood handshakes" and the honor of "Star Baker" week after week.
Chocolates and Confections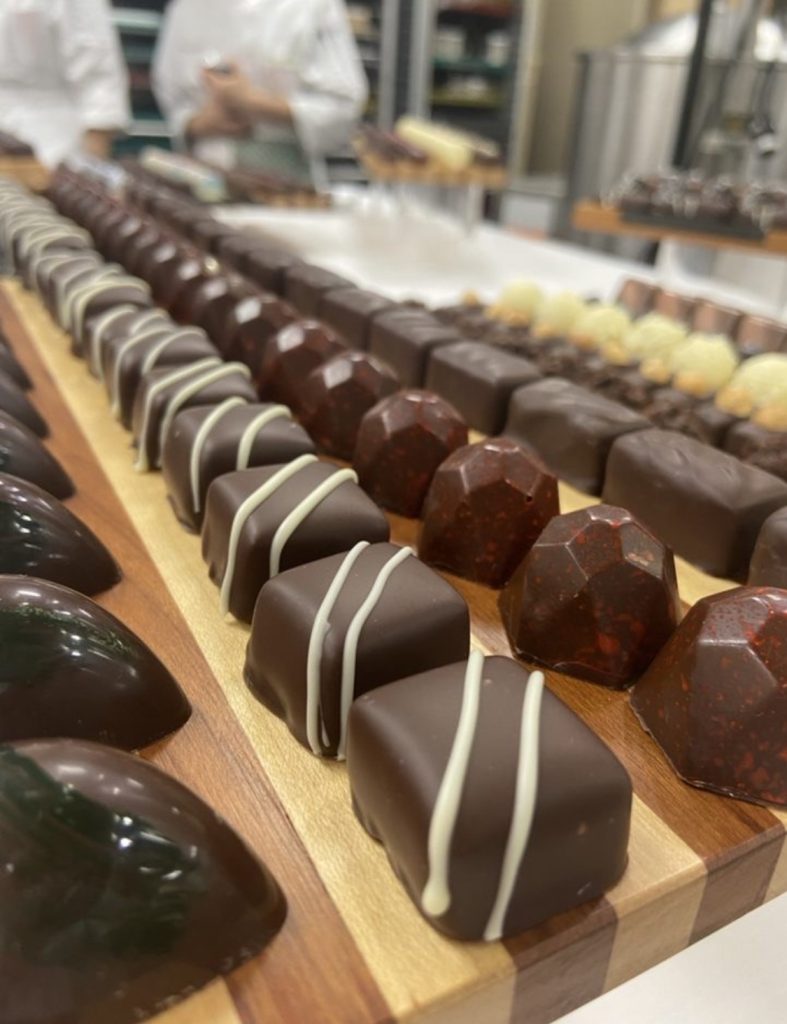 These treats above, said Nadeau are "from the buffet we put together at the end of the course with all of the chocolates we've made during the three weeks." Nadeau's creations included coconut caramels, coffee truffles, liquor cordials with Frangelico, a hazelnut latte slabbed ganache chocolate, lavender white chocolate truffles, earl grey truffles, "a take on Milky Ways that my chef called Sleeping Beauties," and cotton-candy-flavored hard candies. "Each of our class periods provided about five hours of production time," she said. "By the end of the course, we had to be able to temper any kind of chocolate by hand in 20 minutes or less."
Contemporary Cakes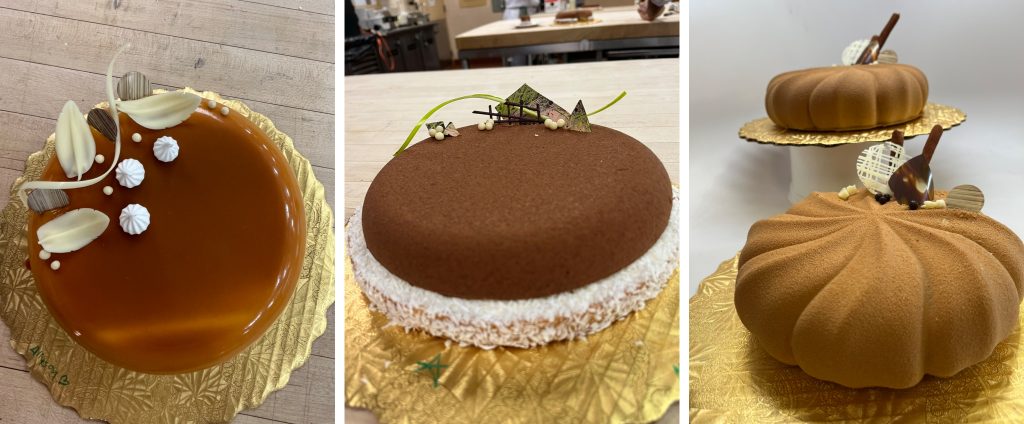 Of the cakes above, the first, said Nadeau, is an entremet, which, according to Dessertisans.com, is "a cake composed of multiple components, assembled into layers, encased in a mousse, enrobed with a glaze, and topped with fine decorations." Nadeau's creation was inspired by Reese's Take 5 candy bars and features, from the bottom up, dark chocolate pate a glacer, chocolate puff pastry, a pretzel crunch layer, caramel cremeux, chopped toasted peanuts, chocolate flourless cake, and peanut butter mousse, all covered in a caramel glaze.
The second (at middle) is what Nadeau's instructor calls a "Pixie Tartremet"— a half-entremet, half-tart, featuring (from the bottom up) white chocolate pate a glacer, tart dough, exotic confit (mango, coconut, passion fruit, and lime), poached pineapples, coconut-lime daquoise, coconut panna cotta, and a separate section on top comprising a milk chocolate spray atop a milk chocolate coconut mousse.
And the third, at right, reflects the final project. "Everyone drew a word out of a hat and had to create an entremet based on it," she said. "Mine was coffee, so I made a dirty chai-latte-inspired dessert." Nadeau's "Dirty Caramel Chai" entremet features seven from-scratch layers, including (from base to top) milk chocolate pate a glacer, coffee cardamom chiffon, salted caramel crispy base, chai cremeaux, another spread of coffee cardamom chiffon, spiced cold foam mousse, and a milk chocolate spray.
Specialty Breads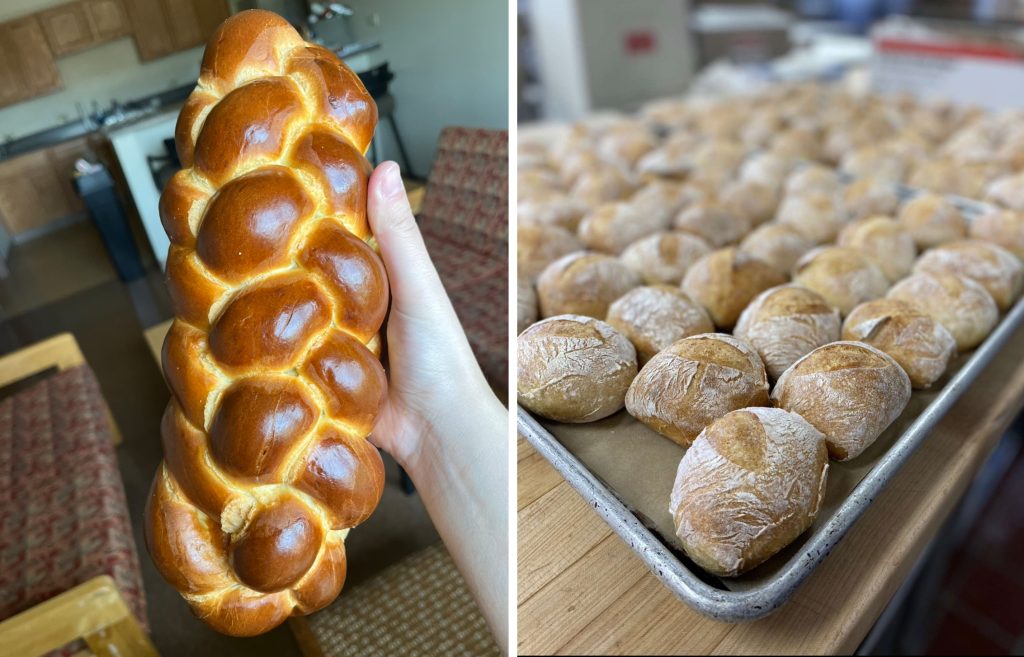 Above is an eight-strand braided challah Nadeau made, along with a slew of baguette rolls. "We made a ton of them daily to send to the French restaurant on campus," she said. "In Specialty Breads, we had to produce at least two different breads, start to finish, every day."
Confectionery Arts and Special Occasion Cakes

Nadeau created the four-layer holiday cake (above left), the chocolate showpiece, and the sugar sculpture (at far right), for her Confectionery Arts and Special Occasion Cakes class. The cake, she said, was a final course project, requiring the use of three of the techniques learned in class. "I used fondant, royal icing both for the lace point snowflakes and the painted trees and pastillage (a type of sugar-paste icing that dries firm) for the tree on top." As for the trees atop the cake, Nadeau said she taught herself how to make them "after watching a Bob Ross tutorial."
For the chocolate assignment (third from left), Nadeau said she created the sleigh from a template she and her classmates were provided. She then added a cocoa butter design to the sides and used modeling chocolate for the sleigh's occupants—something of her choosing. "In my case, I decided on cats," she said. "For the sugar sculpture, we had to incorporate a sugar-blown ornament, a ribbon with at least three stripes, two candlesticks, and a poinsettia. We could use any colors and any arrangement we wanted."
Advanced Baking Principles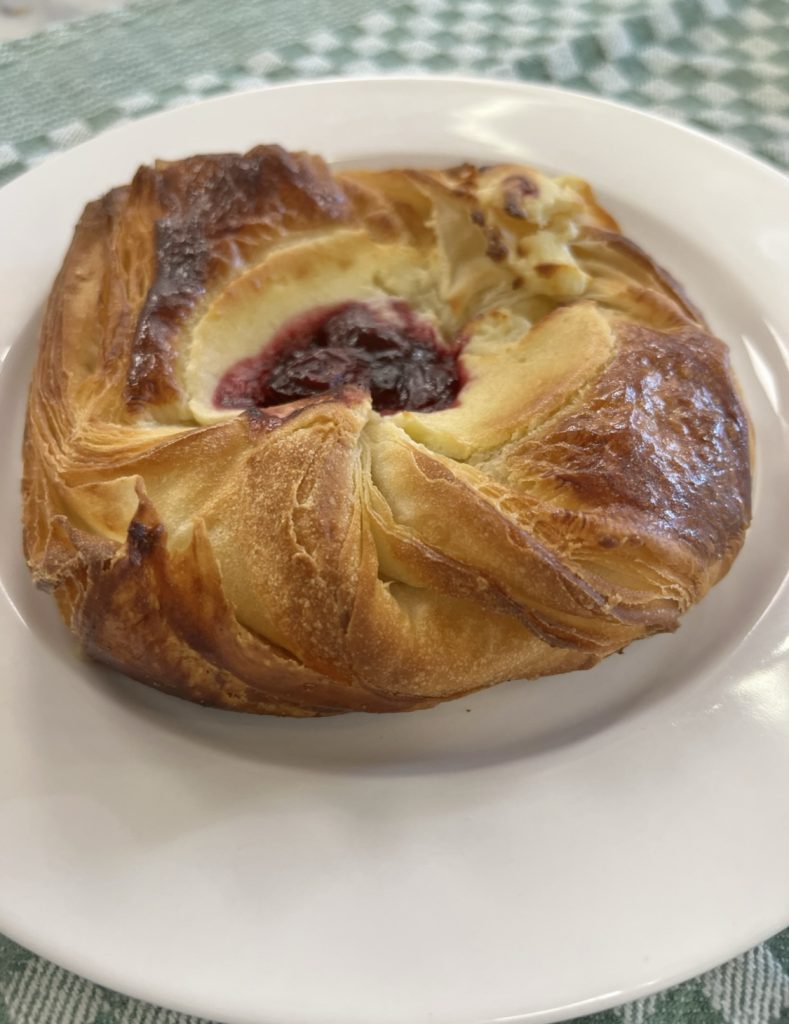 Nadeau created the delectable Danish pictured above for her Advanced Baking Principles class, where she and her peers learn about dietary restrictions and how to modify recipes. "We had to choose a product for our final project and create a control and two modified versions," she explained. "For mine, I did Danishes with a cherry compote, cream cheese filling, and a crumble on top. I made one dairy-free and one gluten-free. I was told at the beginning of that class that laminated doughs are the hardest thing to do gluten-free, so I did it just to see if I could—and I got a 100 on the project."
Restaurant Production Desserts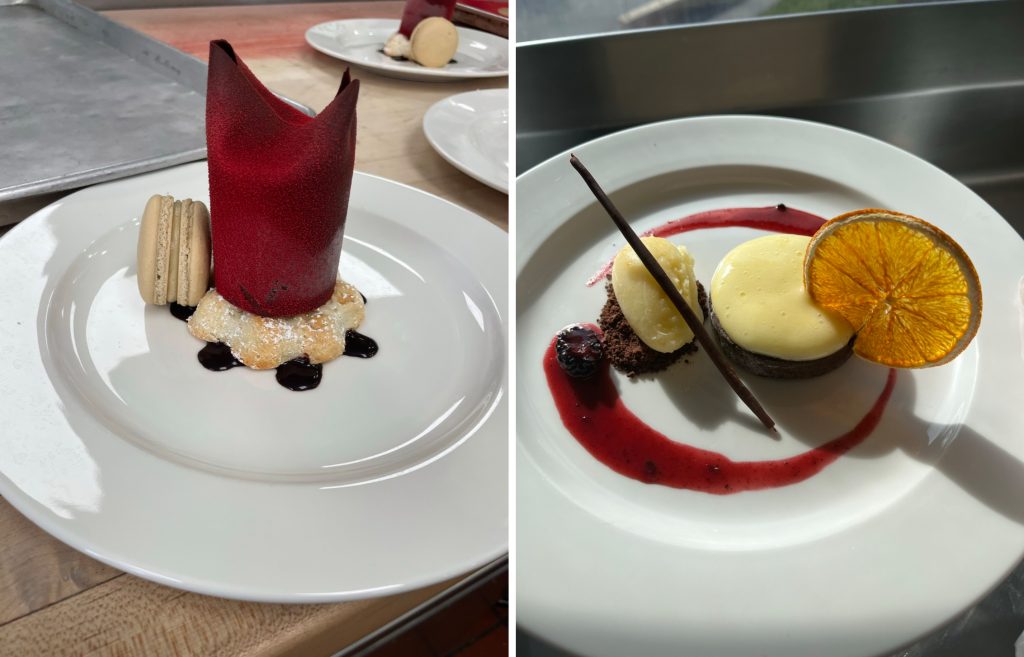 The red chocolate sculpture accompanying the macaron (at left) and the tart with a garnish of dehydrated orange slice (at right) reflect work done in Nadeau's Restaurant Production Desserts class. "The tart was my final project," she said. "We had to come up with a dessert, create all the recipes, put it together, and present it to the class. Mine was a blackberry mimosa tart with a sparkling orange and Champagne sorbet and raspberry sauce."
As for how much of the graded assignments a CIA student does are original and how much they follow recipes, perhaps competitive figure skating offers a helpful analogy: The compulsory round emphasizes the evaluation of set techniques performed by all competitors (much like a student using correct techniques when following a prescribed recipe), while the long program or free skate allows competitors to perform individually developed routines that exemplify the skaters' strengths (much like a student developing their own recipes).
"For everything but the final projects, we followed recipes given to us in the formula packet at the beginning of the course, but for our final projects, we had to either write our own recipes or modify pre-existing ones," Nadeau said. "Each thing we made in each course was assigned to teach us how to do a specific method. For instance, in Chocolates and Confections, we did one type of candy to show us how to work with slabbed ganache, one to teach us how to pull sugar, one to show us how to make jelly candies, etc."
While the work showcased here "represents a little bit of everything I do, it exemplifies the broad range of techniques taught at the CIA," she said. "But I specialize in breads and laminated doughs. They are my passion."
It's a passion that's been in the making since early childhood. Nadeau says she has been in the kitchen, working alongside parents and grandparents "for as long as I can remember."
"When I was really small, my dad built me a little platform so that I could comfortably reach the counter and help with the cooking," she said. "Baking has always been something that brings me joy, and when my eyes were opened to the food service industry and to the fact that I could pursue baking as a career, I couldn't imagine myself doing anything else. I've always been a creative person, and baking is just one way I like to create."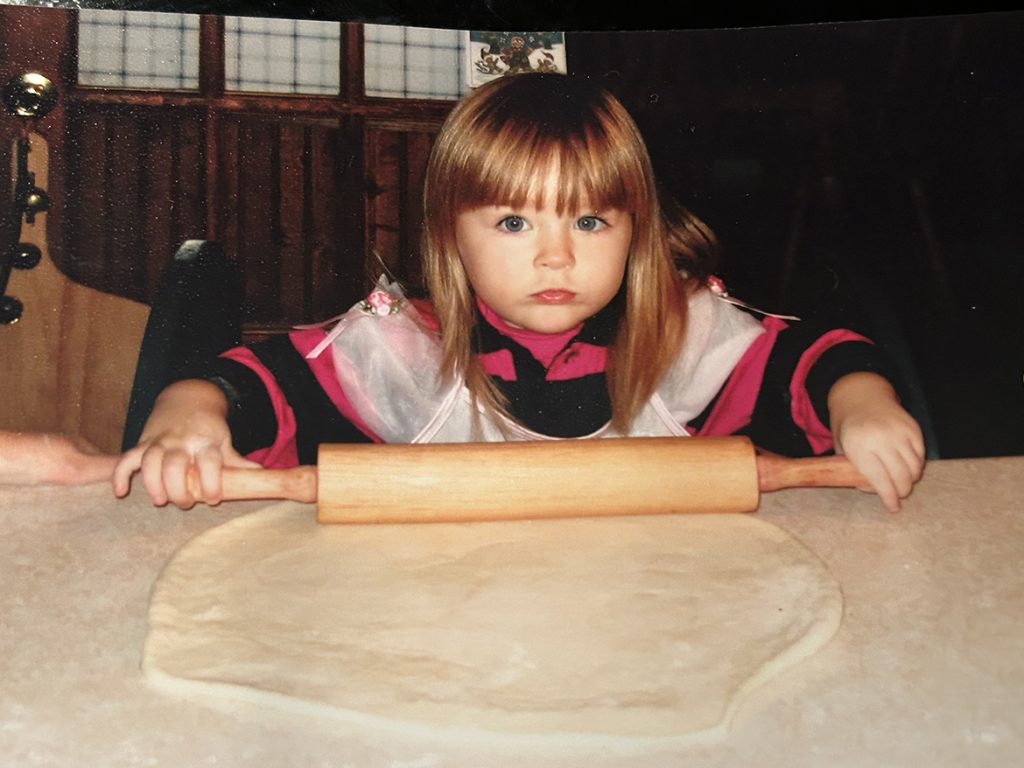 Nadeau, at age 4, was already working with a rolling pin and dough to good effect.
---
Knowing that real-world experience will position her for success in the job market, Nadeau has already moved from theory to practice beyond the classroom. Before matriculating at the CIA, she worked for Biggi's Bakery in Bangor, where "they gave me a good head start and showed me what to expect before coming to school," she said. At the CIA, she worked dinner service at Bocuse, the school's French restaurant, as well as "both front and back of house" at Apple Pie Bakery Cafe, the on-campus cafe. She also completed a semester-long externship at a resort in upstate New York.
As for what lies ahead, Nadeau has two career goals: "After graduation, I plan to move out west toward the big ski areas and find work at one of the resorts or hotels," she said. "Someday, after saving up a while, I'd like to be able to open my own artisan bread bakery."